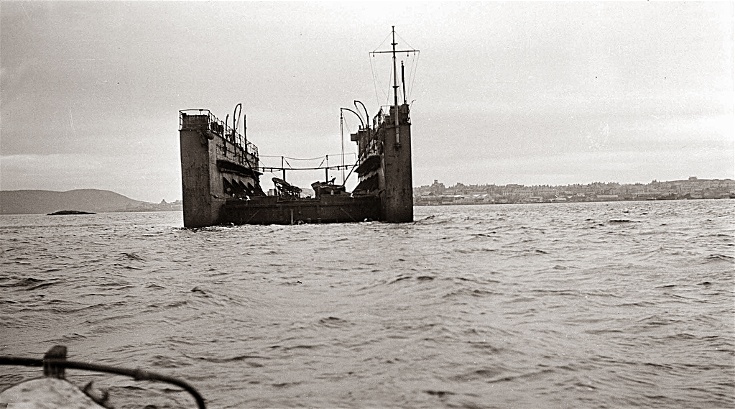 The Invergordon Archive
Admiralty Floating Dock
Known as AFD16, she was laid down on the 3rd of December 1941, and completed in February 1942. On the 25th of February she was towed, by the tug Empire Larch, to Invergordon, where she remained until 1943. I can find no details of her operational service whilst there but AFD16 and her sister docks 14 & 15 were small 250 ton capacity docks originally intended for coastal force sized craft.
AFD16 left Invergordon on the 29th of October 1943 under the tow of the tug Goliath, and escorted by the trawler Flatholm, bound for Lerwick, arriving the next day. Here, the dock stayed until 1945, possibly servicing the Norwegian MTB Flotilla, but I can't confirm that. After a brief period at Lyness between the 29th of August and the 4th of October 1945, AFD16 was moved to Portsmouth, arriving on the 15th October. Here she remained until sometime in 1949.
This picture of AFD16 shows her at Lerwick during the time that the Norwegian MTB Flotilla was there (1943 - 45).
(A 'Large Version' has been added which actually shows AFD15 with Marine Launch ML325 on board. Behind can be seen a second small Floating Dock, probably either AFD14 or AFD16. The location is not known. - Site Admin.)
View Large Version
Picture added on 18 January 2012 at 10:28
Comments: