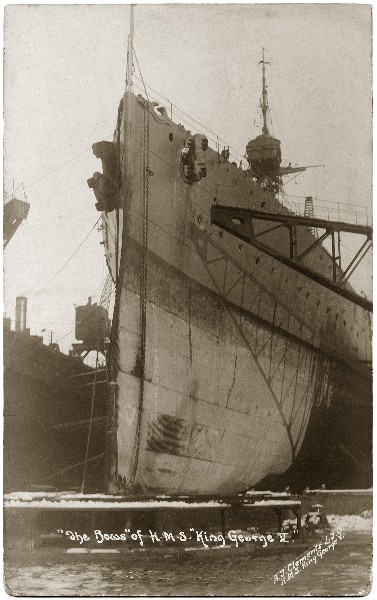 The Invergordon Archive
HMS King George V in the Floating Dock
The large floating dock, identified as AFD5 (Admiralty Floating Dock), was at Invergordon from September 1914 to 1919, and
picture #1364
shows HMS King George V in the dock in December 1919.
Here is another view of the same event, submitted because some nice detail can be seen when viewed in the large version. Note the snow on the edge of the pontoon. The winter of 1919 was a severe one in Scotland and was one of the coldest on record with temperatures just below -27 degrees Celsius.
Records show that King George V left Invergordon, for Portland, on the 13th of December 1919.
View Large Version
Picture added on 30 July 2011 at 12:24