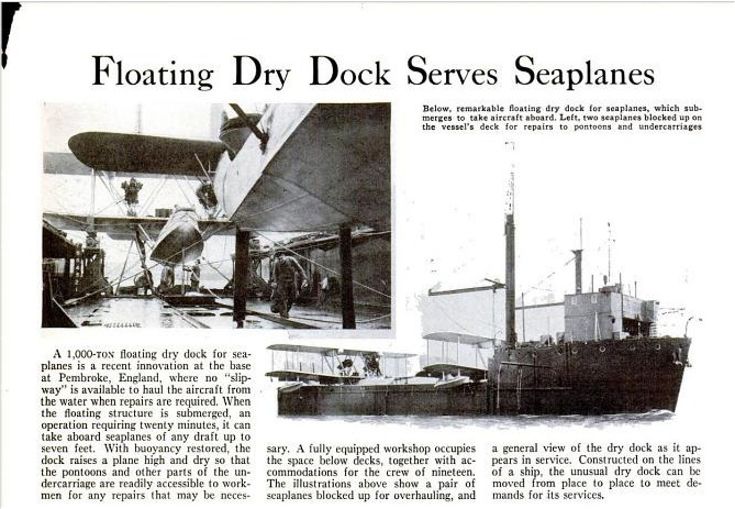 The Invergordon Archive
Floating Dry Dock
This craft is reported to have been towed from Pembroke Dock to Invergordon in 1938 to facilitate the servicing of flying boats which were now at Invergordon. This servicing was carried out at the West Pier. Large enough to accommodate two aircraft - the photos show two Supermarine Southamptons - it could also accommodate a single Catalina or Stranraer but not a Sunderland.
A slipway was built at Alness at the end of 1941 and servicing was then carried out at Alness Point due to lack of space at Invergordon.
Jim Hughes excellent book entitled: "A Steep Turn To The Stars - A History of Aviation in the Moray Firth" mentions a floating dock at Dalmore Pier, and it is wondered whether these pictures show that same floating dock. The Operational Training Unit (OTU) which was based at Alness used Lerwicks, Catalinas, Sunderlands, a Singapore and a Stranraer so such a craft could have been used for some of the servicing for some of the aircraft.
Later, in Jim Hughes book, there is a report of a 'docking barge' in use at Meikle Ferry in 1944 for the servicing of marine craft. This 'Floating Dry Dock' was also used for maintenance of small marine craft so it is possible that it was towed from Alness to Meikle Ferry once it had become redundant.
If you are able to provide any more information regarding this Floating Dock in the Cromarty Firth then your comments would be most welcome.
View Large Version
Picture added on 15 October 2010 at 13:34
Comments: