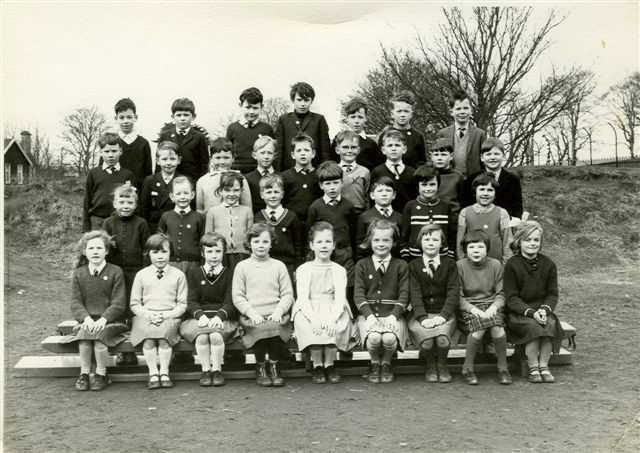 The Invergordon Archive
Invergordon Academy Primary 1 1962/3
Michael Coghill, who was brought up in Invergordon and moved with his family to Canada in May 1969, has sent this school photo. He writes:
This is a Class picture 1962/63 aged five. I attended the school up by the railroad station - primary 1,2,3, etc. and then went down the hill from the old school where I attended up to primary 7. The teacher was Mrs. Wilson until I left for Canada with my family - May of 1969.
In the picture I am in the third row, fourth from the right - the one with the glasses. The tall guy in the back, centre, is Gordon Knox. To the right of me, as you look at the picture is Robert Cavity. In the front row, again as you look at the picture, second from right is Freda (don't know last name). Next to her, I believe, is Elaine Ross, my school sweetheart until I left for Canada, age 12. The other name I recall is Tumphe Kennedy. Pardon the spelling of the names if they are incorrect.
Picture added on 29 June 2004
Comments: