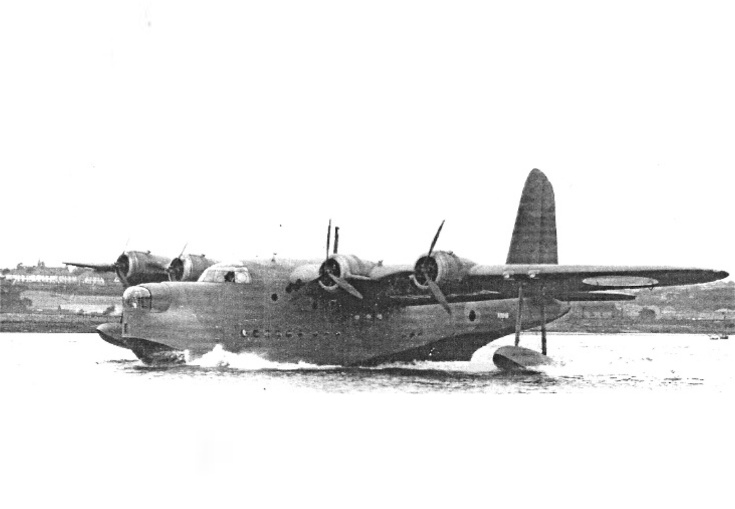 The Invergordon Archive
Short Sunderland N9046
Sunderland N9046 earned the Sunderland the nickname 'Flying Porcupine' on a sortie from Invergordon, 3rd April 1940, when she successfully fought off six German Ju88s. The following is an account of the combat:
'Sunderland N9046 left Invergordon and made its way other the North Sea heading towards Norway. It was on another mission to escort a merchant convoy. Skies were clear of enemy aircraft, and no signs of submarines in the sea. The crew settled down to the prospect of ten hours protection patrol. Then suddenly, as the flying boat searched the sea away from the convoy, two Junkers Ju88s appeared flying low over the waves, from the Norwegian coast. Both Junkers circled the flying boat very warily. Then one suddenly came in at the front of the flying boat with its guns blazing. As the Junkers came in to the range of the Sunderland, the gunners opened up in a brief burst. The Germans were taken by surprise by the Sunderland's capability of defence and swiftly turned away and disappeared into the skies.
While the Sunderland looked for more Junkers, four more slipped past and tried to bomb the convoy. The few anti-aircraft guns defending the convoy fought them off. The convoy and escort knew that they were in for a battle as their position was now known. It was only a matter of minutes when six more Ju88s appeared, two headed towards the flying boat. Flt Lt Phillips took the 25 ton flying boat down to sea level for added protection. Both Junkers followed the flying boat down and roared in with all guns blazing. The Sunderland gunners responded with cool, accurate bursts and the Germans pulled out of the battle.
The four remaining Junkers decided to attack one after another from the stern. Cpl Lillie in the rear turret held his fire until the first attacker was only 100 yards away, then opened fire. The first Junkers caught the full blast, burst into flames and plunged straight into the sea. Switching his sights to the second aircraft, Lillie fired a quick burst into its port engine. The German turned away with smoke pouring from his stricken engine.
One of the crew yelled to Flt Lt Phillips that two Junkers above were trying to bomb the flying boat. Phillips sharply turned the enormous aircraft and watched the bombs harmlessly go by. The Germans decided to give the big aircraft its respect and headed back to Norway. The flying boat was severely damaged and some of the crew slightly injured. Flt Lt Phillips stuggled for the next two hours to maintain height with the stricken aircraft, before landing safely at Invergordon. They later learned that the second Junkers had crash landed in Norway.'
After their safe return the news of the combat spread. Cpl Lillie was interviewed on the Home Service radio programme and the crew were feted.
Picture added on 25 November 2010 at 11:55
Comments: