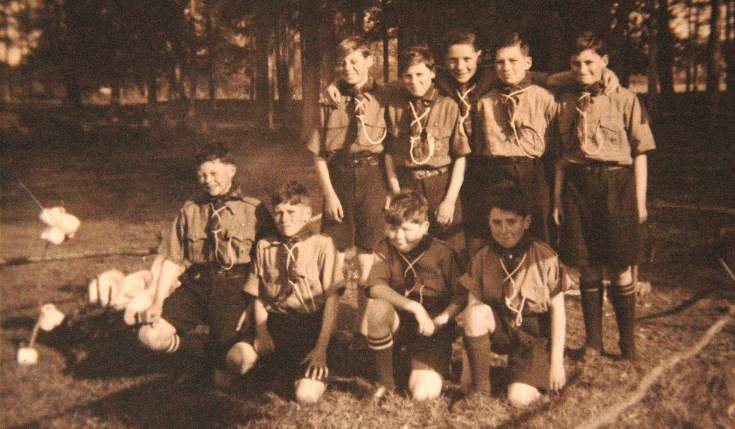 The Invergordon Archive
Invergordon Scouts
The picture was taken on 15th May 1950 when the Invergordon Troop was camped at the Highland Gathering park for an inspection by the Chief Scout, Lord Rowallan.
All aspects of the art of camping and turnout were inspected and our proficiency in firelighting, cooking and semaphore was examined. The cooking was much better than the semaphore and I remember his that his Lordship was unimpressed with the latter and with good reason. We were overawed to be in the presence of a Peer and to be introduced to him.
The patrols were named after animals and were: the Swifts, the Lions, the Peewits, the Wolves and the Foxes. I was eventually promoted from Second in the Wolves to Patrol Leader in the Lions. The PL filled in the Register at the meetings and collected the weekly "subs" of 2d.
The annual camp was the highlight of the year and the Scout Masters at Invergordon were imaginative in their choice of venues. Hugh Ross was Scoutmaster at this time assisted by Jackie (Coogan) Fraser. Hugh had taken over from Tom Cumming, an ex-military man. All the gear for the camp was packed into Hugh's ex-army 5 ton Ford truck and then the troop was packed into the remaining space. Those who could not be fitted in were transported otherwise. We camped at Dyce, Inverurie, Bonally (Edinburgh), Stornoway, Portlethen and Hopeman during my time with the troop.
The picture shows the Swift Patrol and the members are named left to right:-
Front row:- George Munro, Hamish Ross (Skipper), Billy Brownhill, Ian MacPherson.
Back row:- Ross Budge, Justin Calder, (Patrol Second - note the stripe on the LH pocket) Iain Legge (Patrol Leader), Walter MacLean, Michael MacPherson (the Black Prince).
Picture added on 05 March 2010 at 12:07
Comments: