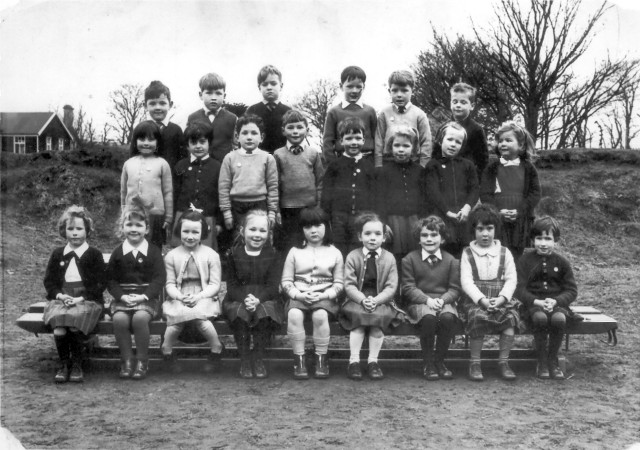 The Invergordon Archive
Primary 1a (Invergordon Academy) 1964/65
There was such a large intake of Primary Ones that we were split into two classes. Primary 1a started out in a room at the back of Cromlet, but ended up spending much of the year in the Church Hall with Miss Mackenzie, who became Mrs Corbett (now up in the Lairg area).
Primary 1b had Miss Crystall and remained in the Cromlet.
Back Row: Ewen Fraser; ?; Mark Harper; Andrew Mackay; Colin Cooksley; Neil Macdonald.
Middle Row: ?; Mandy Connell; James Hay; Allan Clark; Andrew Evans; Evelyn Fraser; Gillian Mackenzie; Carol McNeil.
Front Row: Maureen Cameron; Kay Cameron; Mary Fraser; Ann Cameron; Annette Darling; Diane Macdonald; Lorna Mackay; Catherine Bell; Mary Burgess.
Mabel Mackenzie was absent (having a tonsilectomy)
Picture added on 08 April 2007
Comments: