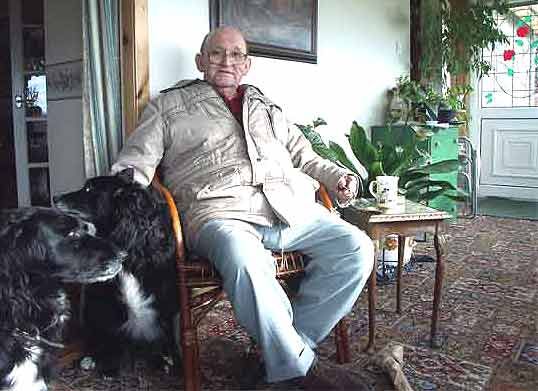 The Invergordon Archive
Davey Bodell
This is a letter from Sid (with some minor adjustments) which explains all:
Hi Harry,
I'm a friend of Davey's and he showed me your letter and I told him I would try and contact you and reply for him. He was delighted to get your letter and I offered to write back to you.
My wife and I have lived in Barbaraville for about ten years now. One morning about nine years ago I invited Davey in for a cup of tea when he was out for his morning walk - and ever after he used to come in every morning for a cup of tea and a 'blether' - until the legs gave up on him and he had to give it up - but my wife Jo and I have been friends with him ever since.
Nowadays he has to use a walking aid and truth to tell, he finds it pretty difficult to get about. He's given up smoking but still enjoys his measured out dram every evening (and more if he can get it ;-)
Davey's great friend and fellow resident in Mull Hall was an ex-navy and lighthouseman Eddie Moncur died last year and he is a great 'miss' for Davey. However, Davey is so thankful and happy to be in Mull Hall. His sister and family come up once a year to see him. Davey says that Mull Hall is the best old peoples' home in the UK - and I dare say he's right.
Through the years Eddie wrote loads of poems, Davey brought them down for us to see one morning, each on a dog-eared old piece of paper in a pretty scruffy bundle. As a surprise for Eddie, Davey and I agreed that I would put them together in a small booklet and give a dozen copies to Eddie at Christmas as a surprise present. Well, in 2003 at Christmas time, Eddie was in hospital and pretty touch and go - however he recovered and was delighted to get the booklet in January. I've attached a copy for you - I know Davey would be delighted for you to have it and I'm sure you'll enjoy Eddie's poetic talents. I really like 'The Station Bar' and 'Taper Johnnie'. I'm very pleased to tell you also that towards the end of the book you'll see a small poem to Joma and Sid - that's us.
Here is a photo of Davey in our house in his regular chair with our dog Lady. There is also a picture of Davey and Eddie in Mull Hall (
picture #889
), and one of Davey's father's old Ford 8 delivery van (
picture #890
). This took me ages to 'touch up' from a tiny, very dog-eared old photo.
Well Harry - Davey would like me to wish you all the very best, another letter from you would be very welcome he says and if you'd like to do it by email, that would be fine - my wife Jo enjoys taking Lady up to visit him.
All the best for now.
Sid.
Picture added on 20 May 2006
Comments: