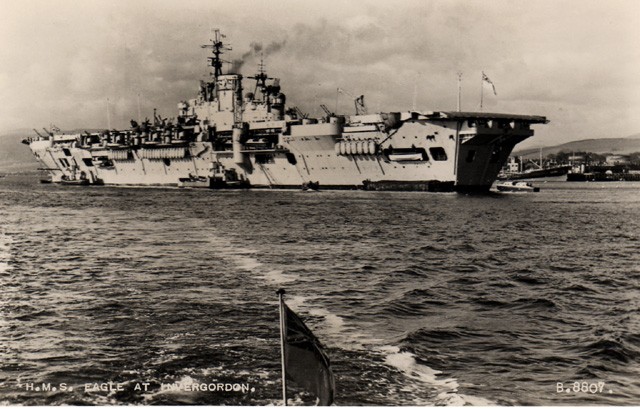 The Invergordon Archive
HMS Eagle at Invergordon
This is the second aircraft carrier HMS Eagle, the first was sunk in the Mediterranean by torpedoes from a U-boat on 11th August 1942.
This ship was commissioned in 1952, but in 1959 she was taken to Devonport Dockyard for an extensive refit and modernisation. In addition to major improvements to her accommodation, machinery and weaponry she also acquired an angled deck and enlarged island. As a result of all this her displacement increasded significantly to over 50,000 tons, making her the largest ship in the Royal Navy.
There is no evidence of the angled deck in this postcard photo, which places the date between 1952 and 1959.
(Image kindly supplied by Invergordon Off the Wall Web Site: www.invergordonoffthewall.co.uk/)
Picture added on 14 May 2006
Comments: