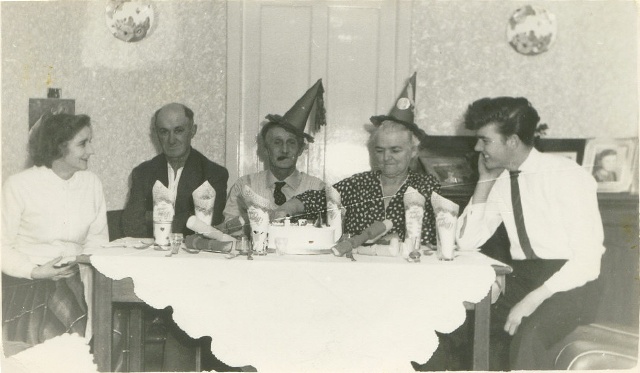 The Invergordon Archive
Christmas Day 1957
Christmas the way it used to be at the Dunn house. Usually there would be more in attendance, but some of us away from home, myself in England my sister in Canada and my cousin Roy doing his national service.....
On the left is my mother Ryall, next to her is Alecy Naig, Fachy and Annie Dunn, my cousin Michael Daniels. On Christmas day the table was taken from the kitchen (skullery) into the front room.
Alecy Naig did not have any family, my grandparents had him for dinner faithfully every day and of course on special occasions such as Christmas day.....I also remember taking a pan of broth to him on Sundays, as my grannie would worry that Alecy would be hungry.. Alecy worked at the dockyard and rode his bicycle every day. He lived on Hugh Miller St between Hec Macrae's and the Caley. Sometimes the Caley was too close.....Alecy was an Invergordon character....
Picture added on 09 April 2006
Comments: