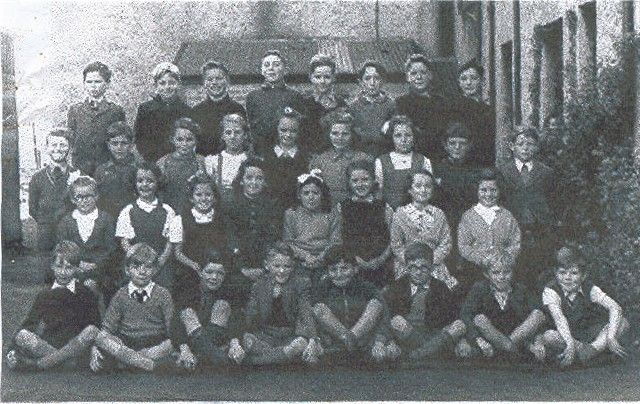 The Invergordon Archive
Invergordon Primary 4
Year 1949 Primary 4.....taken at the back of the primary school, outside what was the janitor's living quarters, think his name was Mclennan and was also the truant officer.....
Back row, from left: John Campbell, Rossy Mitchell, Donalec Mackay, Alec Fowler, think it's Alistair Macdonald, Jimmy Ross, Charlie Melon, Charlie Collins;
Third row, from left: Geordie Murdoch, Jimmy Morrison, ? , Sheena Woodburn, Bunty Maclaren, Eileen Macintosh, ? , John Fraser, Duncan Murray;
Second row, from left: Dorothy Manson, Sheila Macrae, Zilla Mackenzie, Jeannie Mauchlin, Sandra Grant, ? , Eileen Ross, Joyce Parry;
Front row, from left: it's either Munro Hill or John Stevenson, Kerr Inkson, Davey Lyall, John Swanson, Norman Will, Allan Brown, Harry O'Neill, ? ;
Maybe Duncan Murray can fill in the ones I don't know or can't remember....
Picture added on 17 February 2006
Comments: