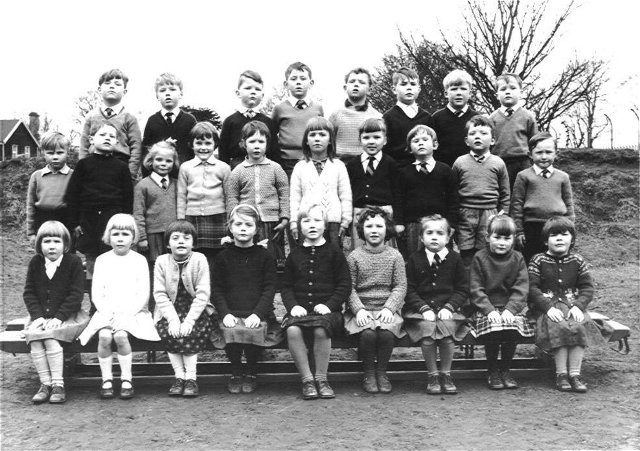 The Invergordon Archive
Invergordon Academy - Primary 1, 1965
This is my mam's school photo from 15th April 1965. Not sure what class they were in but I think maybe Primary 1. The teacher was Miss Nicholson.
Back row (left to right): Jimmy Smith, David Simpson, David Thomson, John Wetherstone, Gordon Mackenzie, Guther Lohsa, Brian Ross, Alan Ramsay;
Middle Row (left to right): Brian Mackintosh, Jimmy Pearson, Wendy Thomson, Fiona Munro, Anne Marie Mackenzie, Elaine Ross, Margaret Ramsay, Linda Wilkie, Kenneth Rowe, Ian Mackay
Front Row (left to right): Susan Ross, Caroline Maclennan (My Maw), Fiona White, Nancy Macardy, Morag Urqhuart, Moira Macldowie, Mairi Macleod, Elisha Smith, Gloria Matheson.
Apologies for any mis-spelt names as the ones that came with the photo were written by my mother as a six year old - I've tried to make some of them right.
Picture added on 15 December 2004
Comments: