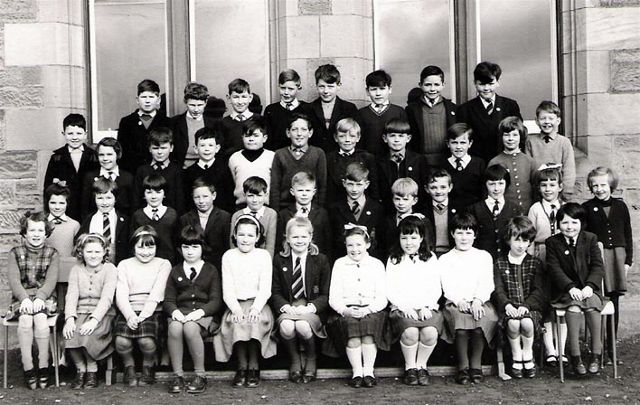 The Invergordon Archive
Invergordon Academy - Primary 5
Liz Whiteford (nee Lane) has contributed this picture with the following:
This is my school photo dated 15 April 1965, taken when I was 10 years old and in Primary 5 - I'm seated 6th from the left in the centre of the front row.
As this class will be celebrating their 50th birthdays in 2005, I will very shortly be sending this photo into the Ross-shire Journal to wish everyone a Happy New Year and Happy 50th Birthday (although sadly, some of our classmates in the photo are tragically no longer with us).
However, impending old age must be affecting my memory and I am sticking on a couple of names and hope that someone will be able to help me to fill in the gaps:
Front Row (left to right): Eileen Lyall, Ann Angus, Louise Anderson, Franca Jackson, Henrietta Bell, Elizabeth Lane, Linda ?, Josephine Macdonald, Margaret Lohse, Arlene Simpson, Joan Gordon;
Second Row: Yvonne Hearn, Jessie Sutherland, Isobel Moir, David Kennedy, David ?, Gordon Fraser, Sanders Fraser, David Main, Eric Mackenzie, Mary Mackay, Jacqueline Maclennan, Marion Mackay;
Third Row: Donald Grant, Margaret Zawinski, John Macgregor, Ross Sutherland, Robert Aburrow, Douglas McIldowie, David Rowe, Charles Macdonald, Eric Mackenzie, Wendy Macdonald, Ian McNeil;
Back Row: Raymond Cook, John Sutherland, David Burgess, Paul Tattersall, Bogden Lakmanski, Kelvin Ross, Ross Hunter, Robert Dunn.
I think I have correctly remembered the names of just about everyone (but let me know if I haven't!) except for:
Second Row 5th Left (David ?)
Front Row 7th Left (Linda ?)
Picture added on 12 November 2004
Comments: