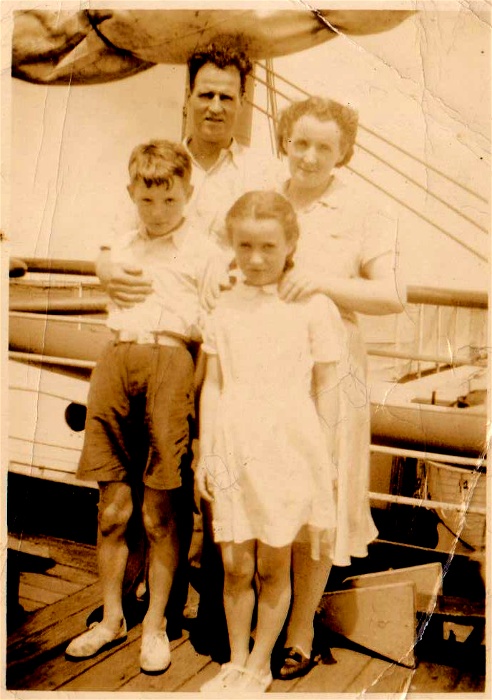 The Invergordon Archive
Hogg family immigrating to Australia
My name is Charles Alistair Hogg and I am a direct descendant of David Hogg (he is my grandfather).
This is a photo of David Hogg and wife Isabella Hogg nee MacDonald with son William (Bill) and daughter Catherine (Renee) aboard the Empire Brent in1949 immigrating from Saltburn to Melbourne Australia. They lived in The cottage on Great North Road Saltburn. David was a merchant sailor and not home much. He shared the house with his father William Hogg and two brothers Donald (Dan) Hogg and James (Juma) Hogg and sister Nellie Cameron nee Hogg and daughter Sybil (Sibbie) Cameron who later married Ken Gordon. David had three other siblings Henrietta who also immigrated to Australia, William who immigrated to New Zealand and Elijah who joined the Seaforth Highlanders and was killed in France in 1916.
If anyone has any information regarding any relatives who remained in Saltburn or surrounding counties I would love to hear from you. All information, photographs or memoirs would be greatly appreciated.
Picture added on 09 March 2015 at 17:06
Comments: