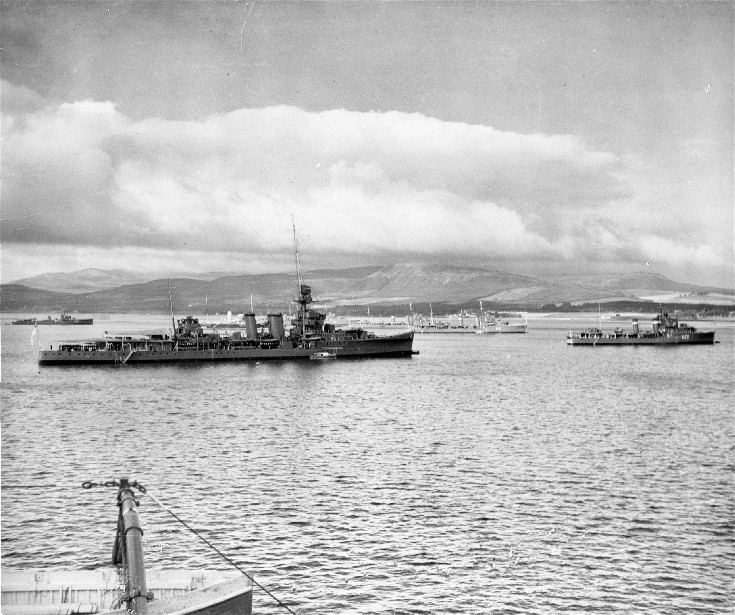 The Invergordon Archive
The Fleet in the Cromarty Firth
I bought this picture in a local flea market many years ago. It has sat around in my small collection of naval photographs ever since. Then, three years ago, we decided to include it in the 'Gallery' feature in the naval annual 'Warship', on which I am Assistant Editor.
The overall feature, in the 2011 edition of 'Warship' annual (published by Conway) consisted of a number of photographs of units of the RN in different locations around the world in the 1930s, with extended captions which I compiled with the help of a couple of our regular contributors. In the case of this one the caption ran as follows:
Unknown (page 204)
An uncaptioned, undated photograph, and with no location given. However an approximate date can be arrived at from working out the identity of the ships present. The light cruiser in the foreground appears to be HMS Cairo, for the ship's name can just be made out on the after superstructure in the shadow beneath the awning, and of the five 'C' class cruisers which had a trawler bow, the name 'Cairo' is the only one short enough to match the number of letters visible. Cairo was flagship Commodore Destroyers Home Fleet (4th, 5th & 6th Flotillas) from 1932 to November 1937, when she was reduced to reserve at Devonport, prior to starting refitting and rearming at Chatham the following year. (Her replacement as flagship was Aurora.) Visible to the right is the destroyer HMS Echo, wearing the white funnel band on the second funnel denoting a member of the 5th Destroyer Flotilla (the band on the fore funnel marking her out as divisional leader). Next to port appears to be her sister ship Express, also of the same flotilla, and the funnel bands of the two or three visible beyond suggest further members of the same flotilla (which was made up of the eight ships of the 'E' class plus their leader, Exmouth). This would date the photograph as being post-1935, for prior to that date the 5th Destroyer Flotilla was made up of 'V's and 'W's.
The 'S' class destroyer in the left background is probably HMS Stronghold, which along with her sister ship Sturdy was attached to the Home Fleet's carriers Courageous and Furious. It is not Shikari, part of the Fleet Target Service, because the latter had had her armament removed and replaced with a wireless cabin and lattice masts for use in controlling the target vessel HMS Centurion.
The vessel in the two-tone paint scheme visible beyond Cairo is unidentified. (Stephen Dent collection).
It is now clear that this is in the Cromarty Firth, just off Invergordon and looking west. In the middle background is Fyrish with Ben Wyvis in the far left background.
View Large Version
Picture added on 22 February 2014 at 18:28