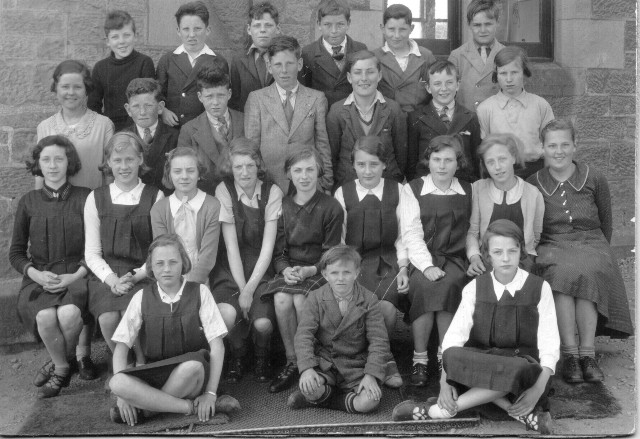 The Invergordon Archive
Invergordon Academy Class of 1934
This photograph is of Invergordon Academy - a Class 1 secondary class with some Alness pupils, taken probably in 1934. It belongs to my aunt, Mrs Margaret Reid of Dunblane, who was then Margaret MacLennan from Kinrhive, the farm 6 miles north of Invergordon. She is in the 3rd row from the back, 2nd in. My father's sister, May Gammie, now May Fenwick, is in the same row, 6th from the left. The Gammies lived at Caplich farm, Alness. May and husband Ken now live on the Black Isle.
Iain Mackenzie, in the top row, extreme right, was my stepfather Donald's brother, killed in the war.
From Margaret's memory, the names are as follows:
Back row - unknown, Peter Anderson, Donnie Allen, unknown, Davy Bowman, Iain Mackenzie
Third row - Bella Mellon, Hector Bell, unknown, Ross Clark, Harry Urquhart, James Simpson, Daisy MacPherson.
Second row - Mary MacCulloch, Margaret MacLennan, Pat Jamison, Ellen Campbell, Nan Mackay, May Gammie, Unknown,
?Isobel from Alness, Pauline Oliver.
Front row - Unknown, Wattie Martin, Florence ?Ross (from Nigg)
Picture added on 06 March 2007
Comments: